HVAC Contractor in Fair Oaks, CA
For more than 33 years, Cassel Air Conditioning & Heating Service has provided heating and air conditioning across Fair Oaks, Orangevale, Folsom, and Sacramento County, CA. We can help install, repair or service your home's furnace, heat pump or air conditioning devices.
Your Ultimate Heating and Cooling Solution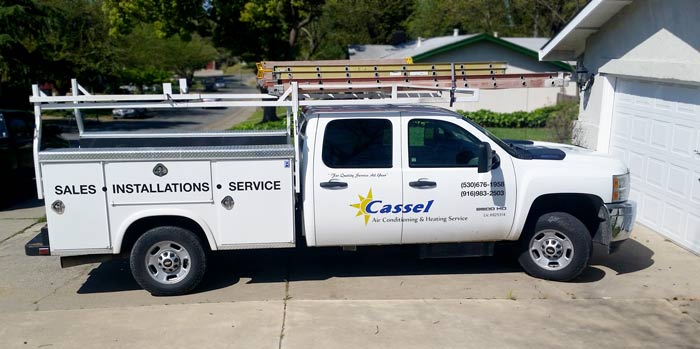 Need air conditioning repairs to deal with the California heat? At Cassel Air Conditioning & Heating Service, we sell and repair many AC and heating units. We also offer water heater replacements and configure thermostat systems. Do you have a Wi-Fi thermostat? Don't worry—we're up to date on the technology and can easily work with most major brands. While we've served the Fair Oaks community since 1989, the experience of our family-owned and -operated heating and cooling business traces back to 1982. We've been in this business for two generations, and we'll make sure we get the job done right to uphold our tenured reputation.
Is your furnace acting up or cycling too frequently? Let us take a look and provide you with restorative furnace repairs. If your furnace needs to be replaced entirely, we can even install a new one for you. Our heating and air conditioning team helps you avoid costly repair bills, while making sure you have the most efficient devices available. Gas or electric, no matter the brand, we'll work with you to make sure your unit is energy efficient and serving you to the fullest. Not living in Fair Oaks? We travel up to 30 miles away to take care of your HVAC needs! If you're looking for a trusted, HVAC contractor near Fair Oaks, CA, our business is also associated with the Better Business Bureau. Give us a call today!
We're backed by two generations and nearly 40 years of heating and cooling experience.
We make sure you'll avoid expensive repair bills with proper care and maintenance services.
Looking for a new HVAC unit? We sell, install and repair most major brands.
We travel up to 30 miles away from Fair Oaks, CA to provide you with quality service.
Our business is associated with the Better Business Bureau (BBB).
Family owned and operated HVAC contractor offering heating and air conditioning services to the following areas:
Cameron Park, CA
Carmichael, CA
Citrus Heights, CA
El Dorado Hills, CA
Elk Grove, CA
Fair Oaks, CA
Folsom, CA
Granite Bay, CA
Orangevale, CA
Rancho Cordova, CA
Rocklin, CA
Roseville, CA
Sacramento, CA
Sacramento County, CA
Get HVAC Work Today
We perform many general repairs and installations for HVAC devices. If you need work done on yours, call our HVAC contractors today.
Contact Us